I just found out this morning that LC is having a massive giveaway to celebrate 1000 followers (how cool).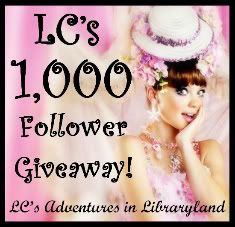 Here are the rules:
You have to be a follower so if you're not then go over and check her blog out because it's amazing!!
You have to fill out the form at the end of
this
page (which also includes all the ways you can get extra entries :)
There will be two winners:
First place wins all of the books in ONE of these prize packs (see below)
Second place wins ONE book from ONE of the prizepacks (see below)
Here are the prize packs :)
You have TONS of choices when it comes to picking out what you want to win! Choose from one of the TEN prize packs below-- and then let me know in the form which pack you want!
Wondrous Strange, The Iron King, Wicked Lovely
Graceling, Rampant, The Warrior Hair
Wither, Delirium, Divergent
Anna and the French Kiss, He's So Not Worth It, 13 Little Blue Envelops
Historical Fiction Prize Pack:
The Luxe, Cleopatra's Moon, Ingenue
Fateful, Nightshade, Shiver
Vampire Academy, Blue Bloods, Jessica's Guide to Dating on the Dark Side
Mermaid, Forgive My Fins, Lost Voices
Starcrossd, Sweet Venom, The Goddess Test
The Forest of Hands and Teeth, Zombies Don't Cry, Rot & Ruin
I know which one i want, but what one do YOU want, so go over and check out her blog, trust me....it's amazing!!